>>

ORDER FORM

<< 

 for
Honey and Gift Packs
---
The Cowichan Honey Store

Honey, Honey,  Honey
Everyone Loves Honey.
You've heard of CRAFT BEER, now try CRAFT HONEY
Come visit our

Cowichan Honey Store

.
Open 4 Days a Week:
Friday thru Monday
10:00 am – 3:30 pm
5735 Menzies Rd. Duncan
250-709-7339

7  Flavours to choose from.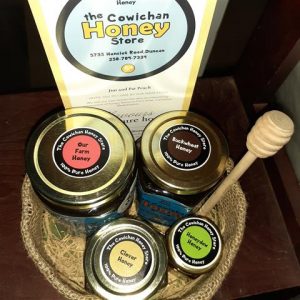 Christmas Gift packs are now available
About our Honey
We offer an assortment of flavours from fellow beekeepers, as well as our own honey while supplies last. 
All the honey is 100% pure and of the highest quality.
Come and taste all our flavours and then make your choice. 

yum. 
(*no tasting during COVID but we have sample sizes)
4-6 jar sizes to choose from. (prices vary for different flavours.  Price range $5 – $25  for individual jars) 
REFILLS: Bring your own refillable container and get a discount.  $15/kg 3 Flavours available for refills.  Clover, Blueberry and Wildflower)
Current Flavours:
Honeydew

Sunflower
Buckwheat
Farm Honey
Clover (refills available)
Blueberry (refills available)
Wildflower (refills available)
LOCATION:
Cowichan Honey Store
5735 Menzies Road
Duncan, BC
Located in the Yellow Farm House ( Our Bee Supplies store is also in our farm store.)
The Store Entrance is Clearly marked alongside the driveway.
There is lots of room for parking.
If the gate is open, we are OPEN
PHONE: 250-709-7339
email: pat@cowichan-valley-farms.com
Jim and Pat Peach
We are farmers, beekeepers, woodworkers and shopkeepers and loving every minute of  our life.
---
Honey Granulation
All pure honey will eventually crystallize/solidify due to the natural sugars in it.  Raw honey has the tendency to granulate faster than highly processed honey as the sugar molecules have more to attach to because of the pollens, propolis and other inherent ingredients still present.
Honey does not have a shelf life.  In fact, it has been found in the pyramids and though crystallized, it was still eatable; not bad for a food substance over 2500 years old.  Store it on your shelf with the lid tightly sealed between 64 and 75 degrees and it will last indefinitely.
If it does granulate, loosen the lid and place the jar in a sauce pan of tepid water until it liquefies.  Do not over heat it!  The water should be kept below 110 degrees.
---
The Honey Store is part of Cowichan Valley Farms business.